With the heat of our first Georgia summer really just getting started, I am already dreaming of fall.
Although, I have a feeling, fall won't bring much relief this far south.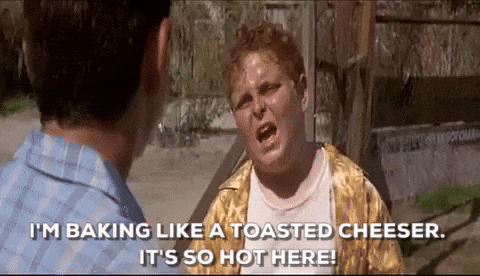 This is already me…
I am probably just not going to leave my house come August.
Or September.
And we'll see about October.
With dreams of fall, comes thoughts of Halloween. Gramma and I have had the littles' costumes picked out for this year since a couple days before last year's Halloween.
I know, I know…craziness.
However, I am always looking for new ways to let the littles decorate their pumpkins.
Being that they're only six, three, and almost two, this mom isn't exactly ready to hand them a carving set.
So here are five cute ways to decorate pumpkins that don't involve sharp, pointy objects that will inevitably be brandished as weapons…
*For four of these five options I used little fake pumpkins that I bought at my local craft store because it's July. Sorry! I definitely look forward to trying these out on real pumpkins come fall though!*
I will start with the one that turned out to be my favorite!
A couple years ago Little Miss and I made coffee mugs for the Grammas and Grampas by dipping them in warm water that we had dropped nail polish into.
It turned out so beautiful that I thought I would give it a try with a white pumpkin!
I chose a white pumpkin and decided that grey and black nail polish would be neat!
I literally want to do this to all the pumpkins!
It's such a perfect smokey spooky!
Now the littles would probably want colors; but mom was in charge of these ones sooooo…
Grey & black for the win!
You can expect to see a lot of these at my house this Halloween.
Now, bust out the dreaded glitter!
I don't know why I do these things to myself…
Start by coating your pumpkin in glue. Gooey, messy fun for your littles, probably not so much for you. Then, bring on the glitter!
I chose two shades of orange glitter; but any color or colors would work and look great!
I think this one was Little Miss's favorite!
Not feeling the glitter?
Don't worry, there's no more glitter!
I promise!
For this next one, Mommy gutted out the pumpkin during nap time and then let Little Miss at it after the cutting part was done.
Once we were set up I handed Little Miss a golf tee and a rubber mallet and let her pound holes into pumpkin.
I drew dots to form an "A"; but otherwise let her do what she wanted.
She really enjoyed this one!
And it looks really amazing with a light inside.
Next up, mummy time!
I picked a taller pumpkin for this one, grabbed some white ribbon, two googley eyes, and some glue.
I realized spinning the ribbon on whilst filming was not going to work.
Sorry!
So jump ahead to the ribbon wrapped from top to bottom…
Then glue the googley eyes one and DONE!
Super easy and super cute mummy!
Lastly, we have a Mister Pumpkin Head!
Do you have a Mister Potato Head in your overflowing toy bin?!
Well, gather his pieces up for some easy pumpkin decorating!
These fake little pumpkins were foam, so the pieces were easily pushed in. If using a real pumpkin you may need to use a hammer and a nail to make a little starter hole.
The pumpkin wasn't very big, and I of course would not find all the pieces, so this is what I ended up with.
There are my five little pumpkins!
Which one will you create with you littles?!
Do you despise glitter?!