Big breakfast basically consists of Daddy and mostly just two of the three littles making pancakes, eggs, bacon, and sausage for breakfast on the weekends.
This is something out littles have missed the most while Daddy has been on his Work Trip for the past few months. And while Mommy can try to replicate the situation and cook the infamous Big Breakfast with them it is…not the same.
I think they love the chaos that is cooking with Daddy.
I swear the rules are…
use as many dishes as you possibly can
stir with pizazz
put all the random sprinkles you can find into the pancakes
move all the chairs to everywhere but by the kitchen table
get syrup everywhere
wipe nothing
rinse nothing
eat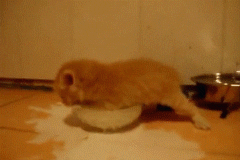 Guess who gets to do the dishes after this lengthy and involved big breakfast turned brunch process is over…
Of course I miss it.
Although, I am sure I will think I was crazy for missing it as I am wiping up pancake batter from inside the silverware drawer.
Well, there you have it, it's been just another Manic Momday!
Is there something your littles think is more fun with one parent than the other parent?!
Is breakfast the messiest meal at your house too?!