In our family, traveling to all fifty states has been a goal since we were kids. My parents have both been to forty-eight of fifty. My little sister has been to all fifty. And I have been to forty-two.
Having my own littles now, it has been important to me that they aim to see as much of the world as they can! This includes traveling to all fifty states.
To track their progress I created maps to hang in their nurseries before they were born.
I am here to tell you how I created the three different maps for our three traveling littles!
Little Miss
With each of our littles we did not find out the gender, this meant three gender neutral nursery themes and color schemes. For Little Miss we did a zoo themed room with the accent color of green.
So, this was her original map…
Keyword – original.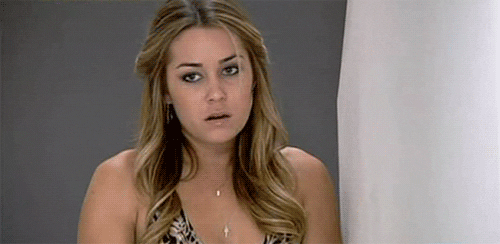 Kids are awesome and love to destroy things.
Hawaii and Alaska disappeared.
Suddenly she had been to California.
And cue this Mom coming up with a new plan.
I had made this super cute map for my little sister where I embroidered the outlines of the states and then filled in the ones she had been to.
I decided this would be perfect for Little Miss's room!
And slightly less likely to get destroyed. Slightly.
Here is the map all outlined and ready to be filled in.
And here is her up to date filled in states!
And a close up of my not so great sewing skills.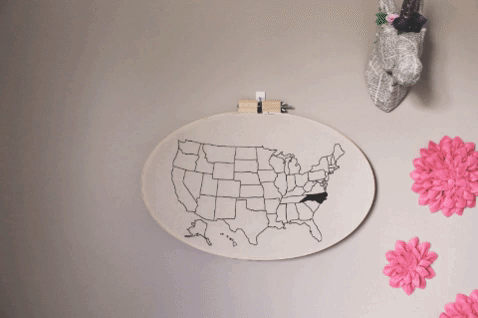 This little lady has traveled to twenty-eight states! She is only six!
She has also lived in Germany, traveled to Czech Republic and Spain!
I thought about doing a world map for her; but then it would have been super complicated to differentiate between the fifty states.
Fingers crossed that this stands the test of time our Little Miss.
Cuddle Bug
So, apparently this is the week where I basically tell you how terrible of a Mom I am during Daddy's work trip.  Read here to hear about my not so successful attempts at taking a shower…
On that note, here's another fun, little anecdote of how our littles are trying to break me. I decided to put the three littles to bed and then go outside to cut the grass. Mostly because if I did it earlier in the day I would die from the heat!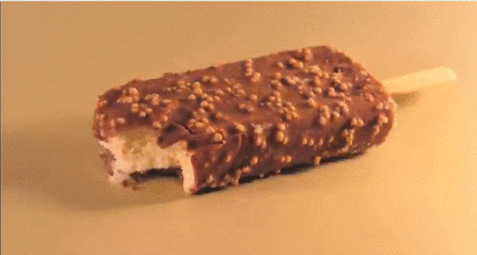 I get through the front yard no problems!
I am feeling lucky so I attempt the back yard too.
BAD. IDEA.
I come in from cutting the grass to find that our littles had taken apart Bug's bed, almost knocked the 4×4 painting off the wall, broke the curtain rod, and then…AND THEN they used said curtain rod to pull down the magnets from Bug's map. This map is six feet off the ground on the boys' wall.
So here I am, a pair of scissors in hand, running them all over the floor trying to find all the teeny tiny, super strength magnets.
No luck.
I find all but sixteen of them.
So, it's off to the ER we go. Because despite the older two insisting they did not eat any, this Mom was not convinced.
Five hours and four X-rays later…no magnets were found in any of them.
*sigh of relief*
Still no idea where the missing magnets are.
All of this is leading to me explaining why this could no longer be Bug's map…
Like Little Miss then, the first map was "ruined" and Mom had to come up with a plan B.
For this version of his map I cut out the fifty states from five differently patterned yellow pages. (his nursery was the moon and stars with yellow being his gender neutral accent color) Then I attached them to a sheet of metal and put a magnet on top of the states he has visited.
Plan B – Part of traveling to every state is also taking a picture by a state sign in each state.
These are a few of my favorites! A little Little Miss in front of the BIG Colorado sign. An extremely unhappy Bug in front of the Virginia trash can I'm a great mom. I just love Bug's sweet, baby face in his North Carolina picture. Some Wisconsin love is a must! Teeny tiny, itty bitty, baby Little Bear who is no bigger than the Pennsylvania A, I would love to do a then & now of this one! And who doesn't want to drive all the way to New Jersey to then not find a single state sign and therefore use a school bus.
This is a very long, convoluted path to take to get to Cuddle Bug's state map!
I decided to use his state photos to cover the yellow states on his magnet board. Therefore no longer having a need for the magnets the doctor made me feel so guilty for even owning.
It looks so cute!
Yes, Alaska and Hawaii are missing. I reiterate, kids love to destroy things.
Here is a close up. I just spread a layer of Modge Podge on top after cutting the pictures to the appropriate shape.
Our three year old has traveled to nineteen states!
I need to update his board as he has been to South Carolina and New York now.
It involves A LOT of cutting; but is a pretty simple project!
Little Bear
Well, Little Bear has the most uneventful map story!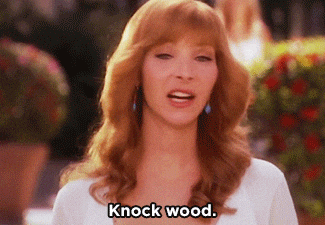 There are no magnets for his! Just tiny, sharp nails…
Oi I should probably just come up with a Plan B now.
To create his map I took a piece of plywood and cut it down to a more manageable size.
His nursery was a woodland theme so I decided to use a wood burning tool to map out all fifty states. I then watered down some brown paint and used it as a stain on the board. Now, all I have to do when he travels to a new state is hammer a little nail into said state!
Here is a close up of his manly state map.
I need to update his map because he went to New York last weekend!
But, so far, our little two year old has been to eighteen states!
I love doing these things for them!
Also, I sincerely hope that as they grow they appreciate it!
Do you guys try to hit all fifty states?!Are your littles as well traveled?!How many states have you been to?!