The Urban Dictionary site defines military brat basically as a dependent in a military family.
The definition throws in more details like…
They make sacrifices for America. Their main sacrifice is giving up Daddy time. Little Miss has gone through two deployments now, and the boys have just gotten through their first.
Moves at least once every three years. Well, considering Little Miss at the age of six has lived on four military bases, this definitely applies.
Probably has lived overseas once for a tour. The boys have not lived overseas; but Little Miss spent two years in Germany.
I also learned that brat is actually an acronym! I shouldn't even be surprised, the military love, love, LOVES acronyms! It stands for Born Raised And Trained. Who knew?!
ANYWAY…
My point here is, that momming while also being a military spouse can be a crazy, hectic ride!
Fielding daily questions about where Daddy is, what Daddy does, why Daddy is gone again can be exhausting.
The older Little Miss gets the more interesting and more detailed her questions get. Unlike Cuddle Bug's Where's Daddy?, Little Miss asks about war and bad guys and if there is shooting.
I'm not going to lie, not fully prepared to answer these questions yet; but here we are. And on top of that, she asks these things while Daddy is gone usually. This means that it is my job to field these questions.
Last year, while discussing Veteran's Day with Little Miss, she asked me what a veteran is. I remember responding with something about a person who has fought for our country. That satisfied her and she dropped the subject.
That is, until a couple months ago.
Of course. I should know by now that nothing is ever dropped with this one. This is the girl who at six years old still brings up the time a German lady drove up onto a sidewalk and ran over her sippy cup of milk. SHE WAS TWO and she still brings this up.
This time I responded with A veteran is a soldier who has fought for our country by going to war. This spiraled into a question about what is war and who are the bad guys and do people die.
And then mom is over here like…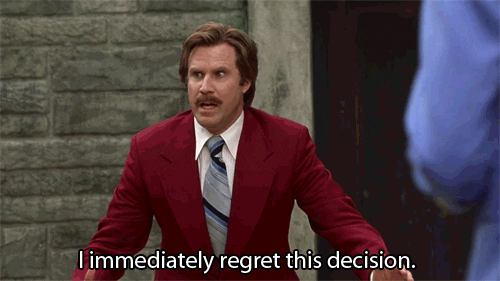 Not only am I constantly getting questions, I am also getting to deal with their inability to deal with all of the emotions a deployment can bring up.
In one day I can get everything from tears, to screams, to punches, to giggles, to extra snuggles. I can get tears over not getting to talk to Daddy right now! I can get screams about how Daddy is more fun! because I make them do their homework. I can get beat up because they miss having someone to play rough with. I can get uncontrollable giggles because mom is so all over the place that she ends up dropping the pizza on the floor and this is obviously hilarious. I can get all the extra snuggles because there is no one I have to share them with.
As military brats, our littles definitely deal with way more things than I ever had to growing up. Making every day a learning experience. For all of us.
Hopefully, all of this moving around and sad goodbyes and new hellos and Daddy-less months help create three littles who are great at adapting to changes, who are great under pressure, and who are at least a little bit extroverted so that they can always make friends.
Well, there you have it, it's been just another Manic Momday!
Are any of my readers military families?!
How do you answer all of the tough questions?